Animeigo launch Kickstarter project for Bubblegum Crisis blu ray set
Date: 2013 October 26th Saturday [21:05] | Posted By: Eeeper
Veteran U.S. anime label announces crowd funded blu ray edition of classic anime cyber punk OVA series.

Full Story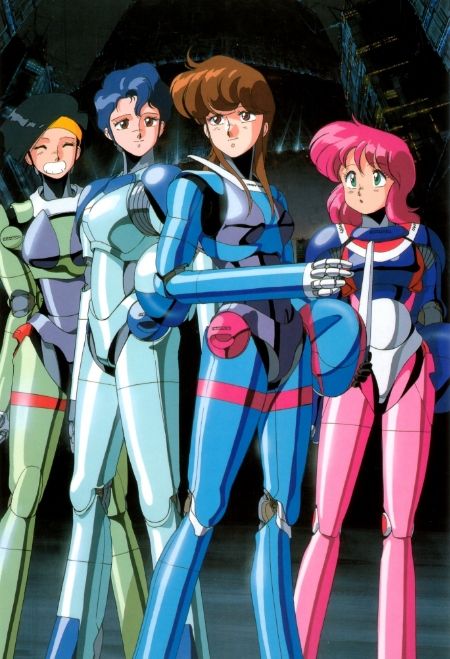 Robert Woodhead, head of anime label Animeigo, announced on the 26th of October that his company would be using Kickstarter to produce a new blu ray version of the classic 80's anime Bubblegum Crisis. The series was created by AIC and directed by Katsuhito Akiyama,Masami Obari and Hiroaki Goda with character designs by Ken'ichi Sonoda and mecha designs by Shinji Aramaki. Animeigo previously released the series on VHS and DVD and the show has developed a sizable fan following in the West in the years since. The series was released on blu ray without English subtitles in Japan in 2008.

Animeigo have stated that while the basic blu ray will have bi-lingual language tracks as well as French subtitles and has the original bonus features that the DVD set had, they would like the customers who pledge to the Kickstarter to decide aspects of the design of the packaging and content. Animeigo also stated that the Kickstarter set will not be available to regular customers until at least 2015. Both the video and the audio will receive high definition upgrades and will be region free so that fans worldwide can play them in their respective regions (licence restrictions mean that the set cannot be sent to Japan, the People's Republic of China, or Taiwan)

While some fans have debated the usefulness of Kickstarter for anime and manga projects, the BGC project will allow fans to pick and choose what they want going into the set and Animeigo have already set up a forum for pledge donors to sound off with ideas, suggestions and complaints. Mr. Woodhead had conducted an extensive set of Q&A's with potential donors before the project went live. Animeigo have also stated that stretch goals include remastering AD Police (a spin off prequel) and possibly including the follow up to the series, Bubblegum Crash.

At the time of the writing of this article the project has recieved over $45,000 of a projected minimum goal of $75,000. Animeigo expect delivery of the Kickstarter blu ray set by August 2014.